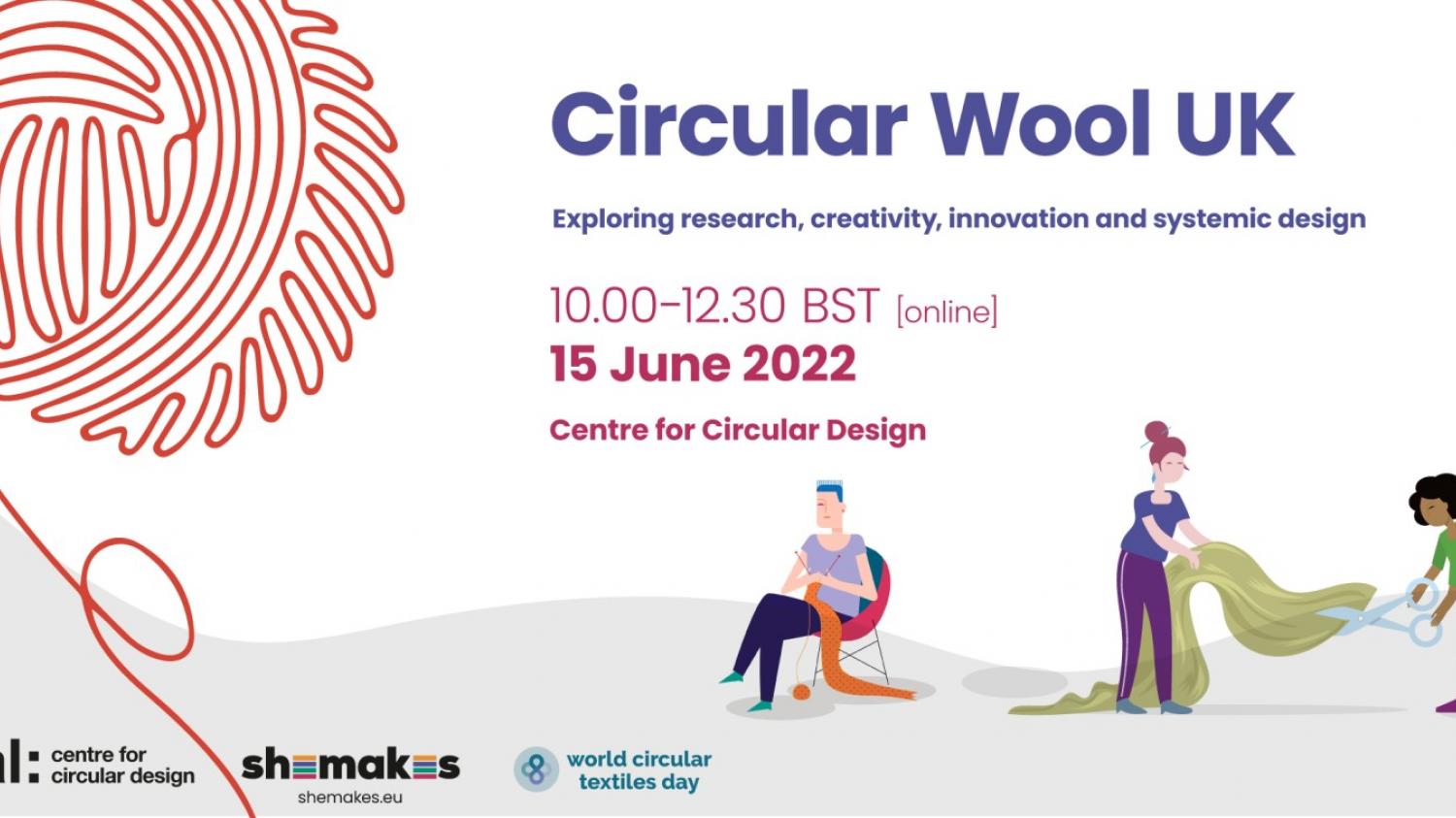 Exploring research, creativity and innovation, this event aims to discuss the UK wool sector through the lens of current design research.
ONLINE EVENT - 10:00 - 12:30 BST | 11:00 - 13:30 CET
All around the world, questions about why we are wasting wool fleeces have become burning issues. Literally. In a time of extreme climate crisis, we are not using our textile resources well, and this in particular seems like a design crime. But is it a actually a design problem? Or are we facing a systemic challenge that we all need to work together on? How can design research help?
This online event aims to explore the UK wool sector through the lens of current design research, by inviting people from across industry, academia and the public sector to share their approach and experiences. Our goal is to understand what role design research can play within creating a circular wool industry for the UK by 2050.
This event is organised by Centre for Circular Design and World Circular Textiles Day 2050 in collaboration with shemakes.
How to Attend
The event will take place online via Zoom, and once signed up you will receive a link to the event. The morning will include a series of expert presentations, Q&As and workshop design sprints. Data gathered will be used just for the Shemakes project purposes, so you will need to sign a form to attend the event.
Program
For this event CCD has used their 'Materials, Models and Mindsets' framework to bring together key design research stakeholders in the field to share their expertise, experience and knowledge, in a short online event that asks the audience to work in Miro as they listen to pre-recorded talks.
Session 1: Why Wool?
CCD researchers Professor Becky Earley and Dr Marion Real will introduce the event with two short talks, explaining the context for this raw resource within a changing textile landscape, from the perspectives of the research centre and an EU project.
Session 2: Materials
This session will be focusing on material innovations, design and technologies that are on the forefront of wool, sustainability and circularity, within the UK landscape. Two invited speakers will share their stories. The session will be chaired by Sanne Visser, with short talks by Dr Zoe Fletcher and Saumya Singh.
Session 3: Models
This session will be focusing on emergent business models and systems that are evolving within the UK wool landscape. This will include models like open source, community-driven economies, and models that highlight the benefit of multi-stakeholder approached. The session will be chaired by Dr Claire Lerpiniere, with short talks by Dr Angela Davies and Jennifer Dranttel.
Session 4: Mindsets
This session will be focusing on the behaviour and mindset of people around growing, handling, trading, wearing and reprocessing of wool in the UK economy and society. The main focus within this would be on the human-centred approach and citizens. The session will be chaired by Dr Lynn Wilson with a short talk by Josie Steed.
Session 6: How Might We?
During the sessions the symposium attendants will be invited to note their thoughts, ideas and questions on a Miro board, which will be reviewed at the end of the session by the session chairs.